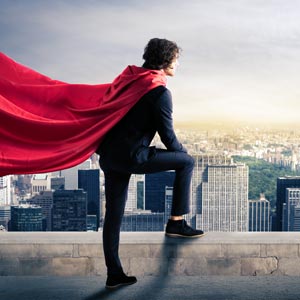 Before I became the somewhat mature individual that I am today, I was the "Caped Quoter". Yes, it's exactly what it sounds like: a Superhero whose super power was quoting automotive components. Actually, I played the Caped Quoter in a movie.
Quoting was so important to us that resorting to humiliating costumes (tights) and bad acting were well worth the effort if it helped drive home some key aspects of our quoting process. If we quoted well, we would likely make some money. If we blew the quote, life was going to be difficult.
One of the top requests we receive from Clients is to help improve their quoting systems. Quoting is often very unique to an organization. Unlike the standardized accounting systems we are accustomed to working with, quote systems are usually homegrown and can be a patchwork of added calculations and components spanning across many years of business.
There are some very interesting technologies available to businesses today which can help build flexible and integrated quoting systems. Here are a few that you should be aware of:
1.) Microsoft PowerApps
PowerApps is an exciting new service from Microsoft that lets you build business apps that run in a browser or on a phone or tablet. One of the most exciting aspects of PowerApps is the vast array of data connections available. A highly functional quoting system can be built with PowerApps and the "database" for the application can be your Dynamics 365 or Salesforce CRM system. In other words, your quote data will be completely integrated with your CRM system.
2.) Microsoft Flow
Microsoft Flow is a powerful workflow automation tool. Flow is not used to create quoting systems, but this app can be used to connect your Excel based quoting tool with your Dynamics 365 or Salesforce CRM on the web. When new quotes are created, selected quote data is automatically populated to the associated Customer and Opportunity. If the quote is for a new customer, Flow can automatically add the customer to the CRM. Flow is also used to build automated workflows to support key business processes such as the routing of quote documents for management approval.
3.) CRM Customization
For less complex quoting requirements, a custom object can be added to your Microsoft 365 or Salesforce CRM which contains the required quoting data and calculations. CRM systems don't necessarily offer the same functionally rich forms offered by PowerApps, but the built-in CRM tools can often be used with good success.
4.) Excel VBA (Visual Basic For Applications)
Many quoting systems are developed in Excel because of the flexibility and low cost of a custom workbook. VBA is a programming language that comes with most of the office products, including Excel. VBA is often used to improve the user interface and workflow of a quoting application. Excel "mini-apps" built with VBA resemble a database application from a functionality perspective and can make complex quoting calculations much easier for the user. Excel VBA can also be used to push and pull data from CRM systems or SQL databases.
5.) Microsoft Access
When multiple users need to have access to centralized quote data, an Access database can be a good solution. Access provides for the rapid development of complex applications because of the development tools built into the program. The data for an Access application can be stored in a traditional Access database or stored on the cloud in an Azure SQL database. Azure provides access to your quote information from anywhere as long as you have an internet connection. This is helpful if you do not have a traditional "server network" in place.
6.) Web & Mobile Apps
In some circumstances, the best solution for a quoting system may be a web or mobile based application built using modern development tools. These applications offer access from anywhere and on any device and offer a very high level of customization. 3rd party partners or customers can also be given access to these types of applications.
7.) Epilogue
You should probably know that by the end of the movie, the Caped Quoter had accomplished his mission. Every department was well represented in the quote and profits were achieved by all. Luckily, good systems can consistently deliver this outcome as well. Superheroes are optional.
Brian Busscher is CEO at Thesis Technologies, a custom software solutions company based in Holland, MI. Learn more about these business technologies by visiting thesistech.com.