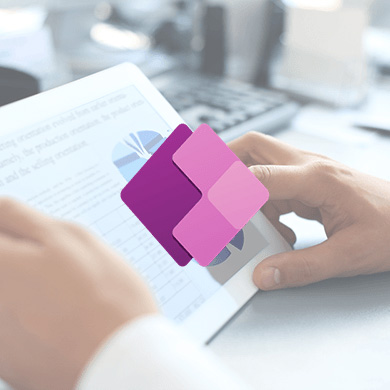 Save 70-90% on Custom Software with Microsoft Power Apps
Custom Web & Mobile Apps for any size company and budget. Save up to 90% vs. traditional app development.
Rapid / Low Code Applications developed with Microsoft Power Apps.
Integrate Power Apps with other Microsoft products such as Teams, Power BI, and Power Automate.
App building experience in 15 industries ranging from retail to manufacturing.
Low-Code Development
The low-code approach to web and mobile business application has allowed us to help our clients transform their business through affordable custom software. Low-code development can cut development times by 70%-90% according to some estimates. A complex custom business application that would cost $50,000 with traditional development can cost as little as $5,000 to $15,000 with a low-code approach.
Low-code app development reduces the amount of custom code required by utilizing drag-and-drop interfaces and replacing standard code writing with pre-developed components and a higher-level "properties and expressions" approach. Low-code development has been around for many years. Microsoft Access is an example of a low-code, rapid development platform which allows developers to create complex database applications very quickly. In a similar way, today's low-code platforms allow for the development of web and mobile applications.
Microsoft Power Apps
Microsoft Power Apps is one of the leading low-code platforms available on the market today. Gartner places Power Apps in their magic quadrant with high scores in "ability to execute" and also in "completeness of vision". Power Apps also offers advantages because of its ability to integrate with other Microsoft products such as Teams, Dynamics 365, SharePoint, Power Automate, and Power BI.
By providing Power Apps development services to our clients, we help them realize these key benefits:
Power Apps Saves Money
Power Apps can save thousands of dollars in development costs through a low-code approach. A 70%-90% cost savings is significant, especially for small and medium sized businesses. Saving money is great, but the business impact goes beyond just the savings because most businesses will not invest $50,000 or more in a customer application. The benefits gained from such an expensive application will not be realized. Power Apps puts important systems and their strategic benefits within reach from a budget perspective.
Power Apps Accelerates Benefits
Time spent in software development is time wasted when it comes to realizing the strategic benefits from a new business application. Power Apps development accelerates the benefits by deploying your solution much faster. Many of out clients contact us with an urgent situation where they have outgrown their current systems and need a new solution to manage their business. Power Apps allows us to address these situations very quickly.
Power Apps Provides Flexibility
Just as a Power Apps application can be developed very quickly, it can also be modified very quickly. This type of agility is critical in most businesses we work with. Business requirements change over time and change rapidly. Business systems need to be flexible to respond to these changes. Power Apps provides this flexibility.
Get A Free Initial Consultation