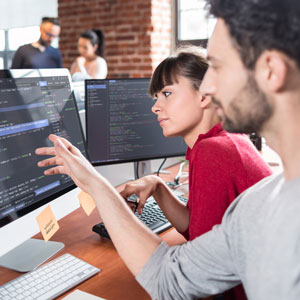 I think I was a "Citizen Developer" before that term existed. In case you haven't heard that term, it refers to company employees who are empowered and enabled to build their own
without the assistance of the I.T. department or high-paid developers. It's a do-it-yourself approach to building apps.
The primary tool that makes citizen development possible is a low-code platform that significantly accelerates the development process. These Microsoft Access is a great example of a low-code, rapid-development platform that allows you to quickly build complex database applications. More than 30 years ago, my fellow citizen developers and I were using a mainframe software product called "Focus" that allowed us to build our own business applications. We built sophisticated systems that produced financial statements and operating reports. We also built an application that allowed us to quote the automotive components our company manufactured.
are not new.
There are several companies that offer low-code platforms today including: Microsoft Power Apps, Mendix, OutSystems, ServiceNow, Salesforce, and others. These platforms represent a new era in low-code development because they are focused on web and mobile applications in the cloud. Imagine a world where you can implement that custom application you have been dreaming of for 25% of the cost and 25% of the lead time compared to traditional applications. This is a game changer for small and medium size businesses.
There is one caveat I should mention at this point. "Low-code" does not always mean simple. It is true that you can deploy a simple application using Microsoft Power Apps in less than an hour. I have done it many times. However, most business applications are not simple. Developing these applications can still be complex and involved. But the point is, a low-code approach accelerates the development process by doing much of the work for you.
Thesis Technologies has built a business around low-code development. Our clients hire us to use these tools to create value. We can do it quickly and at a significant cost savings compared to traditional software development. Many small and medium size businesses don't have citizen developers on staff. We provide these resources to companies across the country representing many different industries.
Here is how low-code development brings value and helps transform your business:
Low-Code Saves Money
Low-code development reduces the amount of custom code required by utilizing drag-and-drop interfaces and replacing standard code writing with a higher-level "properties and expressions" approach. This approach to application development can cut development time by 70%-90% according to some estimates. This cost impact is significant for small and medium size businesses. A complex custom business application that would cost $100,000 if done with a traditional development approach can cost as little as $10,000 to $30,000 with a low-code approach.
Saving money is great, but the financial impact of low-code development is even more profound because most businesses won't invest in the $100,000 application. The benefits gained from the application will never be realized. A low-code approach puts important systems and their strategic benefits within reach from a budget perspective.
Low-Code Accelerates Benefits
The expression "Time is Money" is 100% accurate in the software development business. Equally important is the idea that time spent in development is time wasted when it comes to realizing the strategic benefits of the new business application. Low-code development accelerates the benefits by getting your application up and running quicker.
Many of our clients contact us with an urgent situation where they have outgrown their current systems and processes and need a new solution to manage their business. Speed is important in these situations and low-code development allows us to solve problems very quickly.
Low-Code Provides Flexibility
Just as low-code applications can be developed very quickly, they can also be modified very quickly. This type of agility is critical in most businesses we work with. Business requirements change over time and often change rapidly. Business systems need to be flexible to react to these changes. Low-code development provides this flexibility.
Summary
Low-code software development allows small and medium size businesses to build affordable and transformative business applications that fit their unique needs. Low-code development saves money, accelerates benefits, and provides flexibility.
About the author: Brian Busscher is Founder and CEO of Thesis Technologies which pursues a mission to "help you get your systems right." If you would like to learn more about our low-code, rapid development approach, please contact the Thesis Team at (888) 705-7253.
Find other posts here.