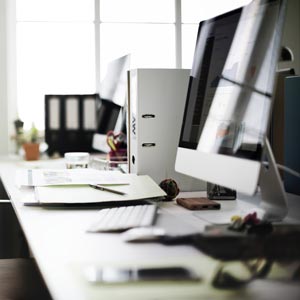 Microsoft Access is a software you can use to store, edit, and organize large pools of data. Unlike Excel, Access has more safeguards in place to prevent human error. You'll also be able to manage more data for your company.
Continue reading to learn about the other advantages of Microsoft Access. Our Microsoft Access consultants are ready to help!
Prevent Human Error
Do you have an Excel spreadsheet that's too long to be useful? If so, you may want to consider Microsoft Access. MS Access catches inconsistencies caused by human error.
For example, your team may have entered the same client under different names by accident. (Think "Grand Rapids Heating & Plumbing" vs. "Grand Rapids Heating"). When this happens, it's difficult to pull all the information you need for a client. However, Microsoft Access is equipped to prevent these types of mistakes.
Create User Interfaces
The "user interface" is the screen your employees will see when they enter or edit data. In
, you're able to create forms that only show the fields necessary for employees to do their jobs.
This also gives your company better information security. That way, your employees don't have full access to your company records. We understand that you don't want to think of your employees as being dishonest, but it's better to be safe than sorry.
Create Permissions for Users
Your employees should only be able to access the information they need for their job. There's no reason why they should have total access to all your company's data. This is where we come in.
Our Microsoft
consultants will be able to create permissions for different users. That way, you're able to beef up your information security. We're also able to password-protect and encrypt files for your peace of mind.
Share Your Findings
Certain types of data can inform your business decisions moving forward. For example, you may want to see how many new leads you've gotten after a marketing campaign. One of the major benefits of Microsoft Access is that it's simple to share your findings with others.
When you make a report in Microsoft Access, you can print, export, or email it to other members of your team. That way, you'll be able to share your findings and collaborate with ease.
Communicating with colleagues is especially important to grow and scale your business. You want to make sure you're sending the rights ideas to the right people and Microsoft access helps with this by keeping your data organized.
Call our Microsoft Access Consultants
Are you knowledgeable about relational database theory? Do you have experience writing queries in SQL? If not, we don't recommend you try to create your own Microsoft Access database. We have years of experience creating Microsoft Access databases for customers so you don't have to deal with the hassle.
Our MS Access consultants can also train your team how to use the new software. That way, you can be sure that everyone knows how to use the latest business technology. We understand that Microsoft Access is an investment in your company. For this reason, we walk you through the process of adopting MS Access.
Our Microsoft Access consultants are ready to help your company thrive with new technology. We'd be more than happy to answer any questions you might have so you can feel confident using MS Access. To request a quote for Microsoft Access consulting, call Thesis Tech at (888) 705-7253.
This blog post has been updated.