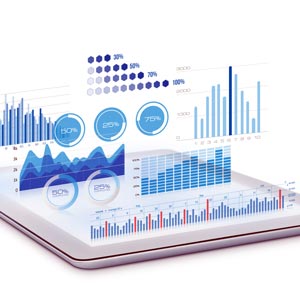 is one of the biggest (and most important) investments you can make in your company. Yet, too many business owners overlook backing up their data or training employees. These are mistakes that can cost you a lot of money, time, and effort in the long run.
Fortunately, our software consultants have experience helping clients with Microsoft Excel, Access, and other helpful solutions. Continue reading to learn how to avoid these top 5 business technology mistakes.
1. Assuming Your Data is Backed Up
Never assume your data is safe and protected. Can you say with absolute certainty that you'd be okay if all your data disappeared tomorrow? If not, you'll need to call our custom software consultants as soon as possible. We'll help make sure your backup system is in place and working properly.
Once your backup system is in place, you'll want to test it every month. Experian recommends every 2 months, but we feel that it's better to be safe than sorry. First, you'll need to create a fake directory for the test. Next, you'll need to erase the fake directory and do a test restore.
2. Not Upgrading Hardware
Is your current hardware able to support the latest Microsoft software? If not, you'll want to meet the hardware requirements for the software you're interested in.
Many people go one or two levels beyond the minimum requirements so they don't have to upgrade their hardware again further down the road. That way, you'll have peace of mind knowing that your new business technology will work as advertised.
3. Not Training Employees
There's no point in investing in the latest
if your employees have no idea how to use it. If your employees are unfamiliar with the Microsoft software you're interested in, give us a call. We offer consulting services for Excel, Salesforce, SharePoint, and much more.
If you can't afford training your entire team, at least train one person. That person can then become your company "expert" who trains the rest of your team.
4. Not Automating Routine Tasks
Did you know Microsoft Excel lets you automate tasks you repeat on a regular basis? The VBA macros in Excel are useful if you find yourself entering the same sequence of tasks into Excel on a day-to-day basis.
VBA stands for Visual Basic for Applications, a programming language used to automate a series of tasks in Excel and other Microsoft Office programs. Simply use the macro recorder to record keystrokes in a series of tasks. One of our Excel consultants can also help you implement VA macros in Excel.
5. Not Using Your CRM to Keep Customers Happy
The key to running a successful business is keeping your customers happy. Thankfully, a CRM (Customer Relationship Management) system helps you keep track of your interactions with customers.
While most customers are used to having one point of contact with your company, it's important that other members of your team are able to quickly get up to date if that person takes time off work.
Call Today!
The business software developers at Thesis Tech work hard to help business owners keep their companies organized and productive. To request a quote for any of our business intelligence tools, call Thesis Tech at (888) 705-7253.
This blog post has been updated.