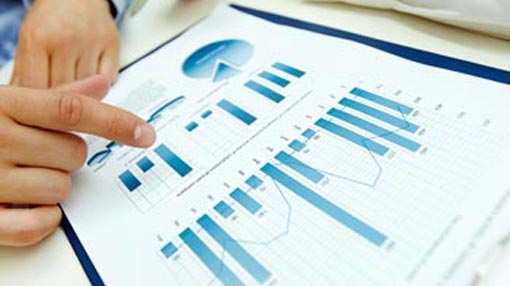 Microsoft Excel is used for so much more than number crunching. Small businesses that use Excel are not only organized, but able to use information to persuade potential clients. In this blog post, our Excel consultants will teach you how to use this program to improve your business.
Need help with Microsoft Excel troubleshooting? The Microsoft Excel consultants at Thesis Tech can help you resolve any issues as soon as possible.
How Do Companies Use Microsoft Excel?
Visualize data
Identify trends
Analyze statistical data
Access company information anywhere
Keep track of employee schedules
Keep track of room reservations
Track and predict product sales
Outline business processes
Visualize Data
Data is only powerful if you know how to use it.
is transform numbers into charts and graphs that tell a story. In a meeting with a client, you want to show them data that is effective at telling a story and can be quickly understood.
While long rows of numbers aren't easily understood, a line graph showing increases in profit can be very persuasive. With the help of a Microsoft Excel consultant, you'll learn how to make charts and that can even feature in your marketing materials.
Identify Trends
When you are able to visualize information, you'll also be able to identify trends in Microsoft Excel. Trends can be a powerful tool because they show you where to invest your money, time, and resources.
Microsoft Excel also allows you to extrapolate current data so you can get a sense of where your company is going. The business system developers at Thesis Tech can help you customize Excel spreadsheets to work for you.
Analyze Statistical Data
Excel has a wide range of tools that allow you to dig into your data and draw conclusions from it. Features like PivotTables are great for this. They let you pull specific information to zoom in on a specific subject or area for greater clarity.There's also lots of formulas and calculations to be done.
One objective in using all the different features Excel has to offer is to tell a story. This might sound elementary, but stories about your company/brand that has the potential to sway new customers and business partners to support you which can rapidly improve your business.
Access Company Information Anywhere
The latest version of Microsoft Excel changes the way you are able to access information. With the Microsoft Office 365 productivity suite, you are able to access the information you need while at the office, in a meeting with a client, or on the go.
As long as you have a device that's able to connect to the internet, you will be able to access information in Excel. Having Microsoft Excel online allows you to access company information anywhere.
Schedule with Ease
Microsoft Excel can be used for much more than just crunching numbers. Excel can also be used to keep track of employee schedules. Simply put the name of the day at the top of each column for a weekly worksheet. Then, put in the names of your employees and the times that they work into the slots.
You can also use Excel to keep track of company resources. For example, if you have a conference room, we recommend you create a spreadsheet that shows the schedule. That way, employees will be aware when the room is occupied.
If a client can't make it at the last minute, you can update your Excel spreadsheet to reflect the change in real time. All employees will be able to have access so they know when the room is available to use.
Track Product Sales
One of the best indicators of a growing company is growing sales. Microsoft Excel is an effective tool for tracking product sales or even using current data to predict future sales.
You can also isolate certain information to track product sales within a certain time frame, which could be daily, weekly, monthly, or quarterly.
For example, if you start an ad campaign on November 15, you could track sales from November 15 to December 15 to see if the campaign had any effect on sales. Using Microsoft Excel in the workplace can help you improve advertising tactics and increase sales.
Outline Business Processes
No matter what your company sells, it's important to have processes in place to ensure consistent results. For example, a bakery may want to outline the process it takes from reading an online order to delivering the final product. There are a lot of steps to get from point A to point Z. Fortunately, an Excel spreadsheet can help you keep track of it all.
Request a Quote for Excel Consulting
Thesis Tech is a business system development company dedicated to helping clients across the United States and Canada. If you are interested in learning more about our Excel consulting services, call (888) 705-7253 to request a quote.
This blog post has been updated.