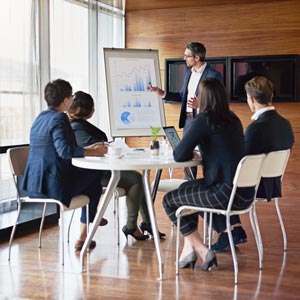 It's easy to get disorganized when running a small business. Thankfully, there are plenty of
options on the market that can help you keep track of customer interactions, schedule meetings, and much more.
In this blog post, the business system consultants at Thesis Tech will give our tips for how you can get your small business organized in time for the New Year. For more information, we recommend reaching out to a business software consulting company near you.
1. Track Customer Interactions with a CRM System
CRM stands for Customer Relationship Management. Like the name suggests, a CRM system lets you keep track of customer interactions to provide better customer service. If you run a small business, it can be difficult trying to remember what was said to different clients. A CRM system for small businesses like or Microsoft Dynamics 365 keeps you organized by storing all your client information in the same place.
Having a CRM system means being organized enough to never misplace client contact information or forget what was said during meetings. A CRM system keeps all your client information in the same place and is accessible to everyone in your company. This means that if one of your salespeople is on vacation, another person will be able to quickly get up to date while on the phone with the client.
2. Create a Company Wiki with Microsoft SharePoint
lets you create a company wiki. A wiki is created collaboratively and can contain anything from product specifications to sales tips. Users are able to read and edit wiki entries, which is perfect for making sure employees always have access to up-to-date information.
are easy to edit and can be accessed via the internet. This means that employees are able to access the wiki while working remotely or on the go. A company wiki is ideal for businesses that have remote employees, or employees that travel as part of their job, but all organizations can benefit from a wiki.
Improve Scheduling System with Microsoft Excel
makes it easy to create a scheduling system. For example, if you need to create employee schedules, we recommend putting the days of the week across the top and filling in cells with times and employee names.
A Microsoft Excel spreadsheets can be seen in real time by other people in the office. This means that your employees will be able to adapt to changes in schedule.
can also be used to schedule meetings in conference rooms. Changes in
For example, if a client can't make it to a meeting, the person in charge of the meeting would be able to update the Excel spreadsheet accordingly so other people know the conference room is available.
3. Track Product Sales with Microsoft Excel
Microsoft Excel makes it easy to track product sales within specific time frames. In fact, many companies look at product sales to determine the effectiveness of advertising campaigns. For example, if you started a new campaign on December 1, you'd hope to see an increase in product sales during the following weeks.
Microsoft Excel even lets you extrapolate current data to predict future sales. Product sales can be narrowed down by day, week, month, or quarter. Using pivot tables, you can filter the most relevant data for your business and easily interpret it.
READ MORE: How Do You Use a Pivot Table in Excel? >>
Take Your Business to the Next Level
The business software developers at Thesis Tech work hard to help business owners keep their companies organized and productive. For more information on the Microsoft Office development and consulting services, give us a call at (888) 705-7253.
[This blog post has been updated.]