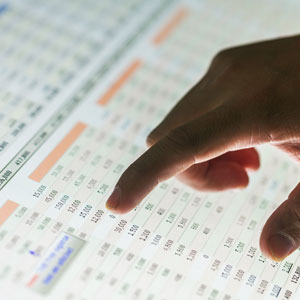 While you don't need to choose between spreadsheets and databases, both play different roles in your business. While databases show relationships between different types of data, spreadsheets map a few key points over a period of time.
More and more successful companies are taking advantage of business intelligence like Microsoft Access and Excel to understand and use data.
Continue reading to learn how our business system consultants at Thesis Tech can help you incorporate spreadsheets and databases into your company's operations.
Data Storage
When you open Microsoft Excel, you'll see that each spreadsheet contains cells organized by rows and columns. An Access database, on the other hand, stores data values in tables. While tables in Access look similar to Excel spreadsheets, they store and manipulate data differently. In MS Access, rows are called "records" and columns "fields."
When you need to
, a query may pull data from multiple tables and compile it for you in one datasheet. That way, you'll be able to access the information you need when you need it. Databases are good for showing relationships between different types of data.
If you are unsure whether you should use a spreadsheet or database, consider your data. If you only need a few rows or columns to store data, use an
. If you need more rows in a spreadsheet than what can be included in a single table or chart, use a database.
Technical Skill
Since Excel has a range of automated functions, spreadsheets are accessible to people with little to no technical skill. To manipulate data in a Microsoft Access database, your employees will need to know programming or SQL code. However, you can get around this by creating forms in Access.
Forms can be created to only show what fields are necessary for employees to do their jobs. You may also choose to include command buttons within the forms that perform specific tasks. Forms not only protect company data, but make sure employees enter data correctly.
To improve usability, you'll want to consider using macros in Microsoft Access to automate database operations you routinely perform. Macros are similar to VBA macros in Excel because they help you save time and reduce the possibility of human error. Many of our clients choose to add macros to command buttons to improve their employees' experiences with the user interface.
Accessibility
Human error is inevitable. Even the best and most organized people still make mistakes from time to time. That's why today's business intelligence tools are designed to prevent employees from overwriting important data or introducing errors. If more than one employee needs to use a spreadsheet, they may discover that it's locked for editing.
While this preserves data integrity, it can also be inconvenient especially for collaborative projects. A Microsoft database is different. Here, several people can use the same data set at once without conflict. However, keep in mind that Microsoft Access will not allow more than one user to change the same data value at once. It sounds cliche, but communication is key when it comes to data accessibility and analysis.
Contact Us Today
Microsoft System Software services to help you streamline business operations and remain competitive. If you are interested in creating a database in Access or learning how to use Excel for your company, call us to schedule your free initial consultation at (888) 705-7253.
offers a range of
Related Blog Posts
How Using Microsoft Excel Can Improve Your Business
How Does Microsoft Excel Help Analyze Statistical Data?
How to Scale Your Business with Microsoft Access
Benefits of Using Microsoft Access in Business
This blog post has been updated.