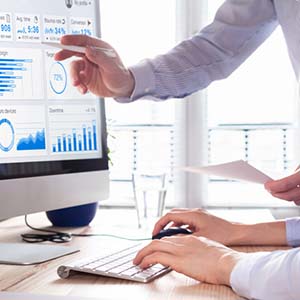 The Team at Thesis Technologies gets contacted quite often by clients to help them design and implement key metrics and dashboards for their business. Our dashboard projects usually consist of these three steps:
1. Dashboard Design
2. Data Organization and Automation
3. Dashboard Implementation
During this process, one discussion that we normally have with clients relates to the dashboard platform. Should it be built in Microsoft Excel, or should it be built with Microsoft Power BI? As you may know, Power BI is the most widely used cloud-based data analytics tool on the market today and its user count continues to grow by leaps and bounds.
Business dashboards can be built effectively using either Excel or Power BI. The question is, which platform is best for your unique needs? There are pros and cons for each approach, and we'll describe them in detail below.
Before we dive into the details, here are a few summary bullets on when
for your business dashboards:
When to use Excel for your Dashboards:
If you are considering a lot of tabular reports like income statements, use Excel.
If your users are well versed in Excel and you plan to email the entire dashboard and dataset to them or share the entire workbook with them, use Excel.
If you love Excel and really aren't interested in using a new platform, use Excel.
When to use Power BI for your Dashboards:
If you want your dashboard to be in the cloud and accessible on any device, use Power BI.
If the idea of "beautiful visualizations" grabs your attention, use Power BI.
If you plan to share your dashboards by embedding them in other applications or emailing links to users, use Power BI.
If you want your dashboards to update automatically on a schedule or stream live to your users, use Power BI.
Depending on how our clients answer the questions above, we will be able to recommend one approach over the other. Communicating certain data insights or trends can be accomplished equally well in either Microsoft Excel or Power BI. As you can see from the items above, the decision is more about presentation and accessibility. The best approach is determined by how you wish to make your dashboards available to the users.
Beyond the accessibility point above, I do believe that Power BI is a better platform for creating a "Wow" factor with your visualizations. There is a bit of art involved with dashboard design and Power BI is a better palette.
If you would like to dig deeper into the pros and cons of Excel vs. Power BI, here is our full list of the advantages of each approach.
Excel Benefits
You can email the entire dashboard, filters, slicers, data, and all.
Excel is a self-contained solution with no need for a separate data layer.
It might be easier to maintain your dashboards if you are a heavy Excel user. Power BI has a few additional things to learn such as DAX statements.
Excel can produce nice PDF outputs.
VBA can be used to import and transform complex data for use in the dashboard. Often this automation is still required when using Power BI. Because of where data often resides, it is not uncommon to use Excel along with Power BI to build the process.
Adding a column to your data requires skills that you already know in Excel.
Excel is probably already in your organization and requires no additional software costs. Power BI may require a license for users depending on how the dashboard is distributed and used.
If your output includes tabular financial statement type reports, those are much easier to build in Excel.
Let's be honest,
. The logic, charts, and data are in the same application.
If your dashboard is part of another Excel based application, you can include it right in the same workbook.
Excel has more advanced data functions than Power BI, so if your data requires heavy calculations and formula-based manipulation, it might be easier in Excel.
Power BI Benefits
Power BI can publish to the Web. Dashboards can be used on any device.
Power BI Dashboards can be embedded anywhere, including: links in emails, websites, CRM systems, and more.
The look and feel is very professional. Power BI is known for "beautiful visualizations".
Power BI can produce nice PDF outputs.
Power BI can directly connect to many data sources ranging from Excel files to SQL databases.
In many ways, the effort of creating visualizations is easier to handle assuming your data is structured correctly.
Visualizations using maps are easier in Power BI.
Power BI results in a more structured and secure solution because the data tends to be more organized and is often in a database. This avoids the issue of an Excel workbook becoming compromised in some way.
Large datasets are easier to handle with Power BI unless you use some of the more advanced data tools in Excel that many people aren't familiar with.
You can embed custom applications inside of Power BI using Power Apps. This adds the ability to interact with your data in new ways and allows you to take immediate action based on your data.
Your data is live. This can be the case in Excel too, it's just not quite as live.
"Slicing and dicing" of data is a bit more "built-in" with Power BI and very easy to do. Cross filtering is very easy in Power BI (many visualizations reacting to a single slicer). More difficult in Excel.
You can automate the update of data on a schedule. Excel can only update when it is opened.
Power BI is advancing in the realm of AI and data analysis.
Sharing is very flexible (can share portions of a report on a dashboard or can share for a mobile device, etc.).
Collaboration is a bit easier with Power BI. Reports can be shared with many people who can interact together because it is in the cloud. You can share Excel in the cloud too but it kind of limits its functionality.
Email alerts can be used which are triggered by conditions in your data. This is possible because your Power BI data is live.
Summary
Beautiful and effective business dashboards can be built in either Microsoft Excel or Microsoft Power BI. One key part of our dashboard projects is evaluating the pros and cons of each platform along with the unique needs of our clients to choose the right approach.
About the author: Brian Busscher is CEO and Founder of Thesis Technologies which pursues a mission to "help you get your systems right." If you would like to learn more about our dashboard related services, please contact the Thesis Team at (888)-705-7253.
Find other posts here.