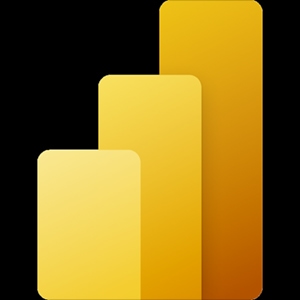 One of my first jobs as a new college grad was to create key indicator charts for company executives. Back then, these charts were printed. Hundreds of them every month were churned out on the noisy dot matrix printer that we had in the accounting department. I would need to babysit that printer all night long to make sure the paper kept advancing and didn't start a fire with a nasty paper jam.
After hundreds of printed pages, countless hole punches and dozens of three-ring binders, the sales, cost, headcount, quality, and profitability trends for the month were ready to deliver. This data was then consumed at high-level meetings throughout the company (or my binders sat unopened on conference room tables looking impressive).
Maybe this experience is why I love Power BI so much because it has got to be the opposite of printed charts in three-ring binders. Power BI has become one of the most widely-used analytics and business intelligence tools in the world. Gartner places it in the top position in their magic quadrant: highest in ability to execute and highest in completeness of vision.
Power BI has amazing versatility. Here are some of the reasons it is such a powerful tool:
Your Data is Live

Unlike the printed charts described above, Power BI data is a live representation of your business. Filters, slicers, and the dynamic relationship between visualizations allow the user to drill through to underlying data and insights. Through the click of a list, your entire report changes from a global company view to a view of your top customer, product, or region. What-if parameters can be added to project how your data will behave under certain conditions in the future. Data can even be set up to "live-stream" into your Power BI report for real-time monitoring of key production or business processes.

Multiple Data Connections

Power BI can be connected to many data sources across your business, ranging from structured database data to an Excel workbook stored on someone's computer. In more practical terms, you can bring financial data from accounting and operational data from the shop floor together into a single report. You can bring customer on-time delivery data together with customer satisfaction survey data. You can bring downtime tracking data together with production line efficiency data. As commonsensical as these data pairing examples may sound, these insights were not easy to accomplish in the past.

Embed Power BI Everywhere

As with so many of Microsoft's products today, Power BI can be embedded in many applications to allow users to access important data without having to search for it. These applications include: Dynamics 365 CRM dashboards, CRM Account or Opportunity forms, Dynamics 365 Business Central ERP pages, Power Apps, Microsoft Teams, Web Portals, Websites, PowerPoint, and Excel.

Empower Your Team

Like Excel, Power BI is meant to be a tool that enables non-programmers to produce powerful analysis. Many companies are adopting a strategy to enable Power BI for their team members, train them in Power BI, and let them use it to create insights and analysis in their areas of responsibility. There are great case studies out there showing the cost savings and business impact of teams that are empowered with Power BI. Other companies don't go quite this far and instead, have data experts build the Power BI reports but then distribute them for use by the team.

Other Impressive Features

The list of other Power BI features is long: 30 out-of-the-box visualization, the ability to integrate traditional data tools from R and Python, Q&A interactions with your data using normal language statements, embed Power Apps inside your reports to make data truly actionable, expand your data with custom fields and measures using powerful Excel-like expressions, subscribe via email to your most important

reports, control data access via Azure Active Directory, and many more.
About the Author: Brian Busscher is CEO of Thesis Technologies which pursues a mission to "help you get your systems right". If you would like to learn more about how Power BI can have a positive impact on your business, please contact the Thesis team at 888-705-7253 .
Find other recent posts here.