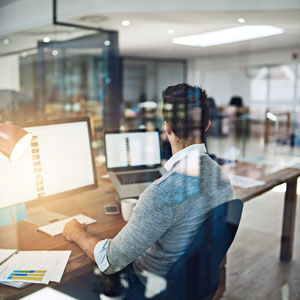 Microsoft Power BI puts all your business analytics on one platform, no matter where your data lives.
If you need to pull data and insights from several sources, this is the business intelligence tool for you. Power BI is able to pull information from files, web services, and databases so you can get a complete picture of your company's health.
The suite of BI tools not only helps you analyze data, but shares insights with the rest of your team. This makes collaboration easier so you can benefit from everyone's ideas and input. Continue reading to learn why more and more companies are using Power BI.
One Platform for Business Analytics
Power BI pulls data from several sources, whether in the cloud or on-site server, and combines it on one powerful platform. If you don't have the time or knowledge to make data source connections, you'll want to contact a company that specializes in business intelligence.
By combining all your company's data, you'll be able to get a 360 degree view of your company. You are also able to customize dashboards so you see the business metrics that matter most. A better overview will help you to more effectively make decisions to move your business forward.
Data Visualization
Once you go ahead with the Power BI download, you might be surprised by how much easier it is to make decisions and hold meetings when everyone's on the same page. Confusion halts momentum and, but when everyone is well informed, you make it far easier for natural growth to take place.
Not only will everyone on your team have access to the same data, but Power BI comes with data visualization tools so you can create interactive charts and graphs. In other words, Power BI gives you the confidence to make decisions backed by data.
Access to the Latest Information
lets you access business metrics on your work computer. However, you can also take advantage of the Power BI app so you can access information on the go on any device. Since Power BI dashboards are updated in real-time, you'll always have access to the latest information.
Once you and your team start using the same data, you'll be able to prevent a lot of the miscommunication that results in missed opportunities and delays to solving problems.
What if you didn't have to rely as heavily on your IT team for data analytics? Power BI lets you ask questions in natural language and answers with interactive data visualization. For example, asking "How did last year's sales compare to the competition?" would give you a chart or graph.
Private or Public Reports
lets you create reports with 20 built-in templates. However, you are also free to take advantage of custom visualizations published by the Microsoft Office community. We understand that a powerful graph or chart could be all it takes to prove your point during the next meeting.
Depending on your goals, Power BI lets you publish reports in-house so it doesn't leak to the public or fall into your competitors' hands. However, Power BI also lets you publish data visualizations on your website or blog to share with customers and the general public.
Contact Us
Thesis Tech offers a range of Microsoft Office product services to help you streamline business operations and remain competitive. If you are interested in Power BI training for you and your team, call us to schedule your free initial consultation at (888) 705-7253.
This blog post has been updated.