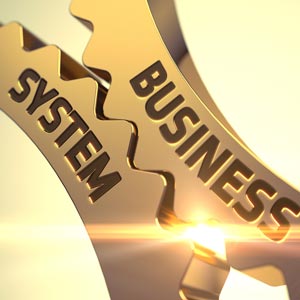 Why Get Your Systems Right?
The mission we pursue each day at Thesis Technologies is to "help get your systems right", but why spend the time and money to do this? The big picture answer to this question is that right systems help you achieve your mission and can contribute significantly to business success. Bad business systems can have the opposite effect and get in the way of what you are trying to achieve.
If I sound a little over-sold on this point, it is Bill's fault. My first job after graduating from college was in the finance department at Prince Corporate in Holland MI working for Bill. I am eternally grateful to Bill for two things. The first is believing in me and taking me along on an amazing adventure. Prince grew from $100 million in sales to over $1 billion in sales during those years and what a ride it was.
The second is a strong belief (and undeniable proof) that "right systems" have a significant impact on the
. Prince's rapid growth required ever evolving and improving systems. These systems helped us stay on top of what was going on and helped us drive the business forward. Putting it another way, right systems allow you to know your numbers and give you the power to improve your numbers.
Know Your Numbers
Strong systems give you the information you need to run your business. Financial numbers and operational data should come together to provide a real-time picture of reality. Strong systems also deliver this information to you when you need it in the form of "instant insights". Poor systems often require tedious analysis projects to find the required answers.
The best systems today have an architecture where data is very open and accessible. For example, Power BI is one of the leading analytics and reporting tools in the world. Power BI can be connected to many data sources, providing a complete view of your business. Power BI also allows you to drill down through your data to give you the insights you need quickly and easily.
If your current systems make it difficult to find the information you need in an efficient manner, you may not know your numbers the way you should. When you do not know your numbers, it can be difficult to improve your numbers and achieve your business goals.
Improve Your Numbers
The biggest reason to know your numbers is to improve them. Business management is a constant cycle of reviewing where we are today and then making changes to get where we want to go tomorrow. When we have the right information at our fingertips, we can confidently make the decisions and changes needed to keep our business on course.
Strong business systems point us to opportunities and empower us to act. Here are a few examples:
Opportunity: Sales for 5 key customers are down year over year. Action: Schedule customer visits with the "Business Analysis by Customer" report in hand.
Opportunity: % is below plan for an important product. Action: Drill through to the actual vs. standard cost analysis and create specific action plans.
Opportunity: Safety incidents have spiked in a specific location. Action: Review the incidents by type and product and design a new approach.
Opportunity: New customer count is trending well below this time last year. Action: Drill through to new customers by salesperson and schedule a review of sales process effectiveness.
Opportunity: Administrative expenses are well above budget for the year. Action: Drill through to expense detail and develop alternatives for the top 10 expense items.
The "action" part of these examples is what makes the difference in our business over time. Strong business systems will provide us with the right opportunities on-time and with little effort.
Summary
Business systems can help propel your business forward or they can hold your business back. When you "get your systems right", you know your numbers and gain the ability to improve the top and bottom lines of your business.
About the Author
Brian Busscher is CEO of Thesis Technologies which pursues a mission to "help you get your systems right." If you would like to discuss ways to move your business systems forward, please contact the Thesis team at 888-705-7253.
Find other posts here.