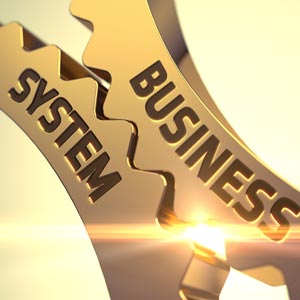 As of last count, we have completed over 1,300 projects for our clients. Each one of these projects involved improving business systems in one way or another. Many of these clients were small businesses that are in the process of becoming larger businesses. What used to work for them just does not work any longer. Some of these clients were very large businesses that are on a constant journey of continuous improvement.
Whether they are small, medium, or large, each one of our clients determined that their business systems could be better. Our mission at Thesis Technologies is to "help you get your systems right."
How do you know what is right and what is not?
In the list below, I have tried to summarize many of the frustrations and problems that have created a need for business system improvement. If you can identify with several of these issues, your business may benefit from business system improvements.
The good news is that this is the best time in history to take on this improvement effort. We work almost exclusively in the Microsoft world and the technology has never been more exciting and more affordable for businesses of all sizes. We work with technologies like Dynamics 365 CRM, , and the Power Platform to bring flexible cloud-based solutions to our clients. If you feel that your business systems are not quite right, now might be a great time to take another look.
Here are a few issues and frustrations that might suggest that your business systems are not right:
Data Issues
The same data exists in several places.
Your systems do not talk to each other.
Data is suspect or inaccurate.
You do not have the data you need.
Data is spread all over the place.
Business Management Issues
Too much analysis is required to get the answers you need.
Key business insights are hard to find.
You do not have the data you need to make decisions.
You missed some key trends in the past.
You use Excel too much.
People Issues
Your employees are frustrated.
It is difficult to train new people.
Your people cannot answer your questions.
Customer Issues
Your customers have noticed some issues.
Customers leave before you know there is a problem.
Flexibility Issues
Making changes is difficult.
You are using the same reports and metrics as you did 3 years ago.
Efficiency Issues
Inefficient manual work is common.
There are too many printed reports.
You spend too much time on administrative tasks.
Technology Issues
You need to be at your desk to use your systems (lack of mobile accessibility).
You run dated legacy systems that will not be updated to take advantage of modern technology (automation, AI driven insights,
).
Summary
Strong business systems can help propel your business forward and poor business systems can hold you back. If your systems are "not right", there is good news. There has never been a better time to bring your systems to the next level.
About the Author
Brian Busscher is CEO of Thesis Technologies which pursues a mission to "help you get your systems right." If you would like to discuss ways to move your business systems forward, please contact the Thesis Team at (888) 705-7253.
Find other posts here.