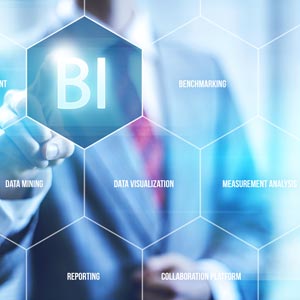 Do you want to improve your company's customer service or take full advantage of market trends? You've come to the right place. There are many problems that can be solved with business intelligence. As a business software company, Thesis Tech has lots of experience helping customers improve their company operations. Keep reading to learn what types of problems can be solved with business software solutions.
Limited Access to Information
are accessible from anywhere with internet access. This means that your employees in the office, working remotely, or on their way to meet clients are able to access the information they need. To remain competitive, you'll need to make sure that your employees are always able to access the information they need. After all, nothing slows down productivity more than not being able to access the data you need for your job.
Poor Customer Service
The key to running a successful business is keeping your customers happy. Thankfully, a CRM (
) system helps you keep track of your interactions with customers. While most customers are used to having one point of contact with your company, it's important that other members of your team are able to quickly get up-to-date if that person takes time off work.
Customers expect you to remember what happened during their last meeting, which is why CRM systems like Microsoft Dynamics 365 and Salesforce CRM are so powerful. Not only do they help you keep track of customer interactions, but they also make this information accessible to everyone in your company. CRM tools improve customer service and help your company stay organized.
Slow Response to Market Trends
How many times have you noticed a market trend too late to take full advantage? No more. With business intelligence, you are able to track trends and spot patterns so you can make solid plans for the future. A data analytics system helps you predict how customers will behave, evaluate sales strategies, and more.
Not Automating Routine Tasks
Did you know Microsoft Excel lets you automate tasks you repeat on a regular basis? The VBA macros in Excel are useful if you find yourself entering the same sequence of tasks into Excel on a day-to-day basis. VBA stands for Visual Basic for Applications, a programming language used to automate series of tasks in Excel and other Microsoft Office programs. Simply use the macro recorder to record keystrokes in a series of tasks. A Microsoft Excel consultant can also help you implement VBA macros in Excel.
No matter if you run a small business or a large corporation, it can be hard finding ways to stay organized. Thankfully, there is a variety of business system software options available to help you find the information you need when you need it.
Thesis Tech is a business intelligence company dedicated to helping businesses like yours improve their operations with business management software. If you are interested in learning how business intelligence and analytics can improve your company, give us a call at (888) 705-7253.
Brian Busscher is CEO at Thesis Technologies, a custom software solutions company based in Holland, MI. Learn more about these business technologies by visiting thesistech.com.