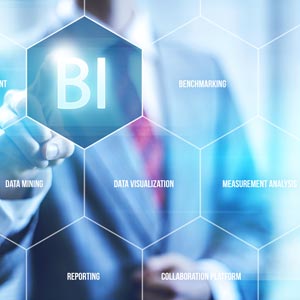 Over time we should see business intelligence trends make leaps as things like artificial intelligence (AI), data management, digital assistants, collaborative data, and more help solve problems. As a business software company, Thesis Tech has lots of experience helping customers improve their company operations with data. For more information on how business software solutions could solve problems this year, keep reading.
How Business Intelligence Is Using and Plans to Use AI
When talking about business intelligence,
has to be on your radar. AI is an ever-evolving system that gives companies opportunities to grow in exponential ways, should they capitalize on it appropriately.
Business intelligence is helping companies understand, manage, and translate data harvested from AI. Rather than having to put together general data reports and comb for important information, AI will be able to start doing some of that labor.
This doesn't mean people who understand data analytics are out of a job, though. Rather, it means they get to handle and participate in more exciting advancements in data rather than harvest and prepare standard information.
On top of this, AI will be more involved in existing systems like CRMs and ERPs. This means that AI should soon sift through your company data while your team continues to grow the company, and when something important is caught the data alerts can notify who you need and help put together an action plan.
How Business Intelligence Solves Poor Customer Service
The key to running a successful business is keeping your customers happy. Thankfully, a
(Customer Relationship Management) system helps you keep track of your interactions with customers. While most customers are used to having one point of contact with your company, it's important that other members of your team are able to quickly get up-to-date if that person takes time off work.
Customers expect you to remember what happened during their last meeting, which is why CRM systems like Microsoft Dynamics 365 and Salesforce CRM are so powerful. Not only do they help you keep track of customer interactions, but they also make this information accessible to everyone in your company.
How Business Intelligence Could Assist with Data Management
With data being the black gold of our time, there has been an increasing demand in the need to manage it all.
BI frameworks need data management software to help keep track of their data points and rule out poor data ideas. Because there is so much data on the market, it's easy to be misguided by something that seems profitable but is actually a huge mistake.
Data management can help raise flags when something isn't right, while also providing arrows to something that makes more sense. With data management, only key players on your team will be able to access and translate specific data sets, so that information is both secure and more precise.
How Business Intelligence Solves Limited Access to Information
Web applications are accessible from anywhere with internet access. This means that your employees in the office, working remotely, or on their way to meet clients can access the information they need. To remain competitive, you'll need to make sure that your employees are always able to access the information they need while on the go.
How Business Intelligences Solves Slow Responses to Market Trends
How many times have you noticed a market trend too late to take full advantage? No more. With business intelligence, you can track trends and spot patterns so you can make solid plans for the future. A data analytics system helps you predict how customers will behave, evaluate sales strategies, and more.
How Business Intelligence Could Do Routine Tasks
Did you know Microsoft Excel lets you automate tasks you repeat regularly? The VBA macros in Excel are useful if you find yourself entering the same sequence of tasks into Excel on a day-to-day basis. VBA stands for Visual Basic for Applications, a programming language used to automate a series of tasks in Excel and other Microsoft Office programs.
Simply use the macro recorder to record keystrokes in a series of tasks. A Microsoft Excel consultant can also help you implement VBA macros in Excel if needed.
No matter if you run a small business or a large corporation, it can be hard finding ways to stay organized. Thankfully, there are a variety of business system software options available to help you find the information you need when you need it.
How Business Intelligence May Utilize Digital Assistants
You may have an
in your office, and as we move forward with data, these AI devices will be able to do more than just play music or order things online for you. They'll be able to generate reports, translate languages, and talk about information.
Having a digital assistant will help keep information organized, at the ready, and also shareable between people in your network.
How Collaborative Data Could Benefit Business Intelligence
This is one of the most exciting advancements in data. Rather than private entities harboring data for singular profit margins, companies are coming together to share data to solve issues with public health and safety.
On top of that, some companies are forging new ideas to continue pushing society forward in technical advancements, ideas, and solutions. This shows how data mining is something that can benefit all people, rather than just a company.
Want More Business Intelligence Ideas?
Thesis Tech is a business intelligence company dedicated to helping businesses like yours improve their operations with business management software. If you are interested in learning how business intelligence and analytics can improve your company, feel free to contact us online or give us a call at (888) 705-7253. On our blog page, we also have many articles on business software and how they could benefit your company.
This blog post has been updated.