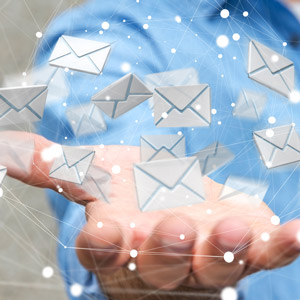 Business emails remain a big part of our lives and there is great business benefit in capturing and leveraging this information. Sometimes this can be difficult. I am one of those people who rarely deletes an email because I might need it someday. Searching Outlook is one of my top five skills.
This whole process of hoarding tens of thousands of emails in a poorly organized set of folders seems kind of last century. To be truthful, I am giving myself too much credit using the word "folders." Most of my email hoard is in my inbox. There must be a support group for people like me.
The good news is, I no longer need to rely on my inbox. Dynamics 365 CRM takes email management and leverage to a whole new level. Dynamics 365 CRM offers several options to organize and integrate with Outlook.
The bottom-line is this: Bring all business emails into the context of the topic they relate to and organize them so that I always have the information they contain available to me when I need it.
Here are 3 very effective ways this is accomplished in
.
1. Synchronize Dynamics 365 with Outlook
The Dynamics 365 email sync feature connects your CRM with Outlook in some very helpful ways. When you send an email from inside of Dynamics, it still shows as a sent email in Outlook. However, the email is also automatically logged as an activity inside the CRM.
Activities are logged and visible directly on the relevant record (accounts, contacts, opportunities) providing a clear history of communication. Activities can also be viewed and measured by the email author or by management if desired. The Dynamics email application is very similar to Outlook of course. You can create a professional signature, add attachments, and even use templates to speed up your process.
The best part of this feature is that you do not have to leave the CRM to do email follow-up. No more bouncing from your CRM to Outlook and then back to CRM to log what you did. Responses to your emails are even "Tracked" by the system if you are using Dynamics 365 for Outlook, which is described in more detail below.
2. Track Emails with Dynamics 365 for Outlook
Dynamics 365 for Outlook is a powerful app which operates inside of
on your desktop, web, or phone. This app allows you to perform many CRM functions without ever leaving Outlook such as viewing CRM records, adding new records, and "tracking" emails.
The email tracking function is typically set up as a manual process where you can decide to link a particular email thread to a chosen record inside the CRM. Once an email is tracked, the email shows up inside the Dynamics 365 CRM as an activity. Any responses or other emails added to the thread will also be automatically pushed into the CRM, providing a clear history of communications with each of your leads or customers.
If you don't like the manual tracking idea, you can also select one of the options to automatically track email messages. You can even tell the system to automatically create a lead or a contact in the CRM if you receive an email from someone that is not in the CRM.
3. Email Auto Capture
Email Auto Capture is a feature in Dynamics 365 CRM which allows you to view all emails related to your CRM contacts without adding them as activities in the system. With this feature, only the "owner" of the CRM records can see the emails (no other users of the CRM can see them regardless of their security role).
You can quickly change a particular email into a tracked email by clicking on it in the CRM and selecting the tracking option.
Premium Auto Capture is in preview status from Microsoft and provides "activity suggestions" based on the system's analysis of emails, meetings, and other CRM activities. Premium Auto Capture will help you prioritize your top opportunities and save you time as you manage your day-to-day activities.
Transform Your Email
Email sync, email tracking, and email auto capture are three very helpful advanced features of the Dynamics 365 CRM system which provide a high level of email organization and accessibility without any effort. I use all three of these features in my business and really appreciate the results. I would encourage you to give them a try!
About the Author
Brian Busscher is the CEO of Thesis Technologies which pursues a mission to "help you get your systems right." If you would like to learn more about how Dynamics 365 can impact your business, please contact the Thesis team at (888) 705-7253.

This blog has been updated.