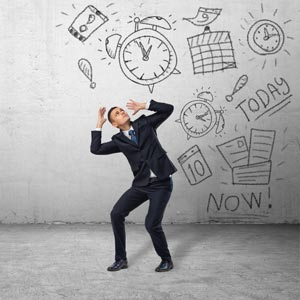 One of my connections on LinkedIn made this statement to me recently: "Our CRM works fine if you like being at your desk all day." Another made this comment as he was searching for the right CRM: "Many CRMs seem like they create a lot of extra work for the salespeople." Maybe you have heard similar comments from your salespeople as you discuss CRM.
These concerns are real and a
with poor capabilities or a weak implementation can create a situation where way too much time is wasted on administrative CRM tasks such as data entry or data organization.
There is good news, however – it does not need to be this way! Modern CRM systems like Dynamics 365 CRM have so many ways to remove the administrative burden from salespeople and let them spend more time doing their job.
I will expand on these ideas in future posts, but as an overview, here are 10 strategies that can be used to eliminate time wasted in your CRM:
10 Strategies
Use Excel or Google Sheets to push data into the CRM.
Take full advantage of Email integration.
Let the CRM drive your follow-up process.
Use click-to-dial to make more efficient phone calls.
Use web-to-lead to eliminate data entry time.
Let the CRM clean house to keep your data fresh and relevant.
Make use of efficiency tools in your CRM (search, recent list, pinned).
Let your CRM notify you when things need attention.
Bulk updates with
.
Mobile strategies with Dynamics 365 and Power Apps.
Wasting time in the CRM that should be spent selling is a problem that can be worked and solved. Sometimes our excuse for not solving it is that there are time-savings and benefits created in other areas when we use the CRM effectively. This is very true of course, but there is still great value in making our salespeople as efficient as they can possibly be. Afterall, happy salespeople sell more!
What's Next
In future blog posts I will expand on these strategies and provide more details on how we use them during CRM Implementations and the impact they have on salespeople. Based on a recent survey, most companies use a CRM system of some kind, but only 26% of them report that they have achieved a high level of user-adoption.
I believe low user-adoption rates are due in part to a failure in addressing the concerns of our salespeople when it comes to their daily efficiency. Of course, we expect them to use the system and complete their daily responsibilities regarding the CRM. This helps the company and each one of them to achieve our common goals. I would suggest that showing true concern regarding salesperson efficiency and following through with strategies to address the issues will turn your CRM implementation into a big win for your business.
Summary
A common complaint from salespeople regarding their CRM system is that they spend too much time doing data entry and too little time selling. This issue can be addressed by implementing strategies that eliminate wasted time and improve sales team efficiency.
About the author: Brian Busscher is CEO of Thesis Technologies which pursues a mission to "help you get your systems right." If you would like to learn more how Dynamics 365 CRM can help improve your sales team efficiency, please contact the Thesis team at (888) 705-7253.
Find other posts here.