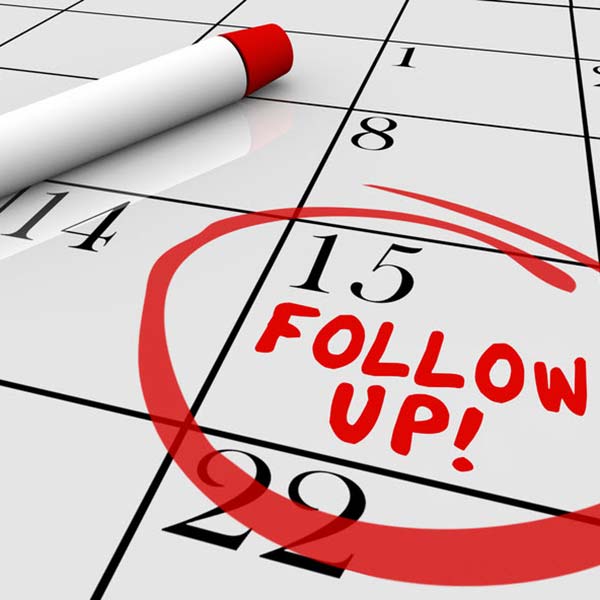 I logged into my
a while back, determined to get caught up on my follow-up activities. I took a quick look at my follow-up statistics and here is what they told me:
12 follow-up tasks overdue (average of 59 days overdue)
42 unsold opportunities that didn't even have a next follow-up task scheduled
In other words, if my potential new clients didn't bother to call me back on their own and ask to buy something, I probably wouldn't sell much. This is especially embarrassing for me to admit because I implement CRM systems for a living. Something had to be done.
Maybe you can relate. It's easy to get behind on CRM follow-up and it's also easy to drop it all together until it's too late and you lose the sale.
I believe one answer to this problem is some creative automation (the other answer is to fire myself, which does not sound good). Powerful CRM systems like Dynamics 365 Sales Enterprise provide the tools to make sure CRM follow-up is always a competitive advantage and never a grind.
Here are a few ways we use CRM automation to solve the follow-up problem:
1. Auto-Add Follow-Up Tasks
To solve the problem of missing follow-up tasks, this is simple to automate using Power Automate. Each night, a Power Automate script is scheduled to run. It searches through every unsold opportunity in my CRM and automatically adds a follow-up task with a scheduled due date.
The due dates have some logic built into them to make sure everything does not come due on the same date. Larger opportunities are given higher priority, etc.
2. The "Nudge" Approach Using Microsoft Teams
When you get hit with 42 missing tasks and 12 past due tasks, the risk is high that you might avoid this problem until "later today" which never comes. The key is to attack this a piece at a time and stay on top of it.
We can create automations that give you 2 or 3 follow-ups to work on each day. Maybe a gentle reminder in the morning, maybe another one around lunch… you get the idea. Microsoft Teams is a great way to do this.
Using
, a chat message can be sent through Teams reminding you that follow-up is due for Acme Components. This chat message can also include a small form to allow you to type an email message right there on the spot. Power Automate delivers the email for you, marks the task as complete and schedules the next task based on a date that you provide.
3. The "Nudge" Approach Using Microsoft Outlook
Instead of sending a chat message reminder for a particular follow-up, this can also be done in Outlook email messages that also include actionable forms, buttons, and more to make follow-up quick and easy.
4. Auto Reschedule Tasks
We can also use automation to reschedule tasks to make sure each day is manageable. My 12 past due follow-ups can be rescheduled across a one-week time frame, allowing me to get caught up without overwhelming me on any given day.
5. Batch "Catch-Up" Using Excel and Power Automate
The Dynamics 365 CRM makes great use of Excel. By creating the right "view" in the CRM and exporting it to Excel, we can create a process where you work through a list of follow-ups very quickly by adding dates and responses to this data.
When the Excel data is submitted back into the CRM, Power Automate flows can be used to do a variety of things, including rescheduling tasks, removing tasks, or sending emails to your leads.
The automations described above gave me the ability to turn my poor follow-up habits into a real competitive edge for my business. I hope these ideas can help your business also. Have a great month!
About the author: Brian Busscher is Founder and CEO of Thesis Technologies, an implementation partner for Dynamics 365 and Microsoft's Power Platform. If you would like to discuss how Dynamics 365 might be a fit for your organization, please contact the Thesis team at 888-705-7253.