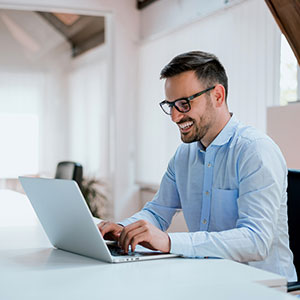 There has probably never been a category of business applications that has elicited more emotional responses than https://www.youtube.com/watch?v=xF53u7CfN60 "I can't provide my 360 degree view if she doesn't share her daily activities" and "If CRM don't know about it, it don't exist" and "I'm only with you because I'm forced to be." Classic.
. CRM systems have also been the butt of jokes from popular sales influencers or even CRM vendors. Here is one of my favorites featuring "CRM" and a defiant Sales Rep in a therapy session:
If you are a CRM hater it probably has to do with the battle between CRM administrative tasks and the more value-added selling activities that lead to more closed deals. I had a LinkedIn connection tell me once "Our CRM is great if you love spending all your time at your desk." He was a bit of a hater.
CRM systems have many benefits that make their use seem like common sense including:
Companies that achieve full CRM adoption report sales increases of 25-30%.
Companies report a large return on their CRM investment.
Sales Opportunities are logged somewhere, why not log them in the best place possible?
A well-implemented CRM offers new insights into Sales Opportunities.
Modern CRM systems offer the ability to automate many processes and eliminate tasks.
Most of us believe these types of results are obtainable but way too often CRM implementations fall short. You cannot really blame the haters in a lot of cases, but how can we do better?
Here are 3 important strategies that can turn CRM haters into CRM lovers:
Involve All Salespeople
During the planning and implementation of your CRM system, it is critical to involve the people who will be using the system. This involvement can range from being on the
project team to simply being listened to. When people are involved in a new initiative, they have a much better chance of supporting it. You may not make everyone happy because some team members will fight any change. But by listening and following through on each person's concerns and ideas, you have a great chance of creating more CRM lovers and less haters.
Automate and Eliminate
Enterprise level CRM systems like Dynamics 365 Sales Enterprise and Salesforce.com provide almost endless opportunities to automate processes and eliminate or reduce non-value-added clerical activities. In fact, this should be a key selling point to your team as you launch or relaunch your CRM system. Often this automation involves providing your team access to new information that they just could not get before such as customer sales data or insights into customers that are at-risk. The CRM should also eliminate manual reports and updates. Target specific manual tasks that will be eliminated by the CRM. Use the CRM to reduce manual data entry. Data entry is the biggest creator of CRM haters in my experience. Get creative and automate as much of this as possible. There are many approaches to make this happen. The more you use your CRM to automate and eliminate, the more CRM love there will be in the room.
Never Stop Improving
As you use your CRM system over time, additional opportunities to improve the life of your team will become apparent. As new ideas come up, make sure you document and prioritize them and keep knocking them off the list. This sends a great message to your team that you are hearing them and acting on their ideas. This also makes your team more efficient and effective over time, improving business results as well as team satisfaction. Sometimes the best ideas come after some time has passed using the CRM system. Make sure you do not miss the opportunity to take CRM love to a new level as you gain experience with your system.
Summary
CRM systems can elicit emotional responses which create CRM lovers and CRM haters. How do we avoid the haters? Three key strategies can help: Involve All Salespeople, Automate and Eliminate, and Never Stop Improving.
About the author: Brian Busscher is the Founder and CEO of Thesis Technologies which pursues a mission to "help you get your systems right." If you would like to learn more about how to turn CRM Haters into Lovers, please contact the Thesis team at 888-705-7253.

Find other posts here.